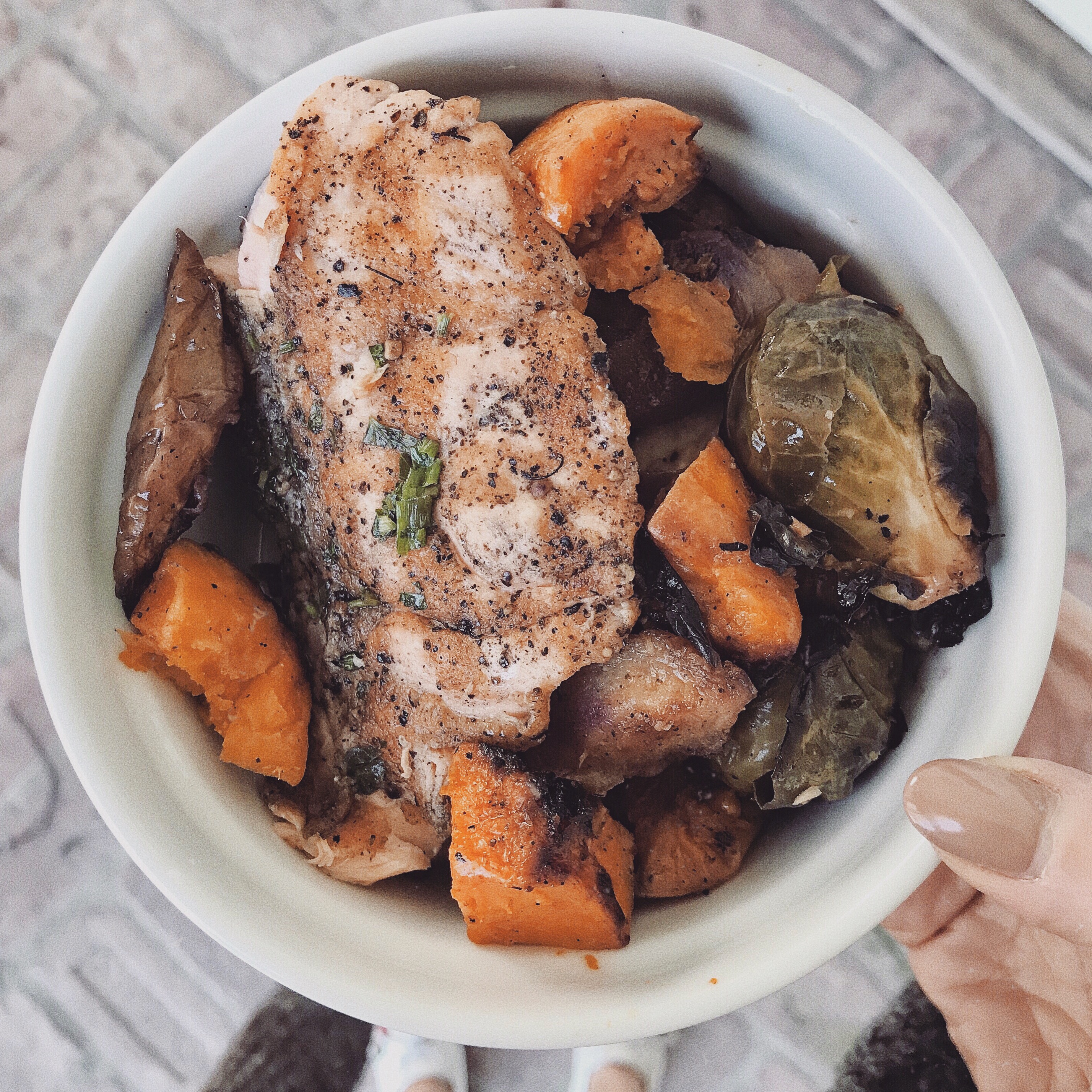 Eating while traveling – seems intuitive, right? You travel. And eat. While you travel. Simple. For many people this is the case but for those of us who are aiming to achieve an aesthetic goal, tracking macros, or trying to feel our absolute best it can be a little more complicated than that.
I feel like I have to post this with a disclaimer: I don't have the answers and I won't tell you exactly what to do. The reality is that how I approach this varies depending on where I'm traveling, what nutritional guidelines I'm trying to adhere to, and why. In general, and I'm going to sound GOOP-y here, if I'm traveling internationally I'm very relaxed about everything but I bring some essentials with me (which we'll get to). In the long run no aesthetic goal or macro target is important enough to pass on amazing authentic food local to wherever I am. It's part of the experience! Also food in other countries, depending on where you are, tends to be much cleaner and more digestible than here in the good old USA. That said, if I know the heaping bowl of pasta is going to make me feel awful or the eclair is going to upset my stomach, I'll be cognizant of that and enjoy in moderation or make the better choice – for me. Not because of how I look, but how I feel. I believe that's called intuitive eating. Novel idea, right?
Domestically I don't formally track macros either, but I bring a lot of my own food or shop wherever my destination is so I have my usual products which makes life much easier. I can prep snacks and the other meals are easy to fill in with a clean protein, vegetables and/or complex carbs.
Avoiding food sensitivities poses more of a challenge, and while most places can accommodate common intolerances such as gluten and dairy, I have to accept that I may not be able to avoid everything that I do at home. No matter what kind of trip I'm taking I always bring my own essentials like matcha, protein powder, collagen peptides, crackers, clean jerky, raw chocolate, and some clean bars that contain whole ingredients to stave off the hanger, which makes it a bit easier to avoid eating something terrible for me because I'm starving. I call this panic eating. I am strict in adhering to guidelines related to food sensitivities because I want to continue to heal my gut and obviously don't want to feel awful.
So you've read up until this point and I've given you no clear direction – sorry about that – but really this is such an abstract concept that is going to differ from person to person and be influenced by a number of variables. My general rules are:
if you track macros and you're traveling anywhere, leave the scale at home

bring your own non perishable snack foods and supplements

if you're traveling for pleasure, indulge in local cuisine – that's part of the experience

if you have food sensitivities, be prepared; bring probiotics, herbal supplements to help GI system

listen to your body, stay present and enjoy yourself!
Tracking macros is an incredibly effective tool that I prefer to pick up and use when I want to feel good, lean out, or am feeling overloaded. It is not a stringent practice that I let dictate my life and certainly not my travels. If you track, pick it back up when you get home. Oh and don't eat the airplane food…especially lobster on Air France. You've been warned! xo
Shop some of my favorite travel snacks below!