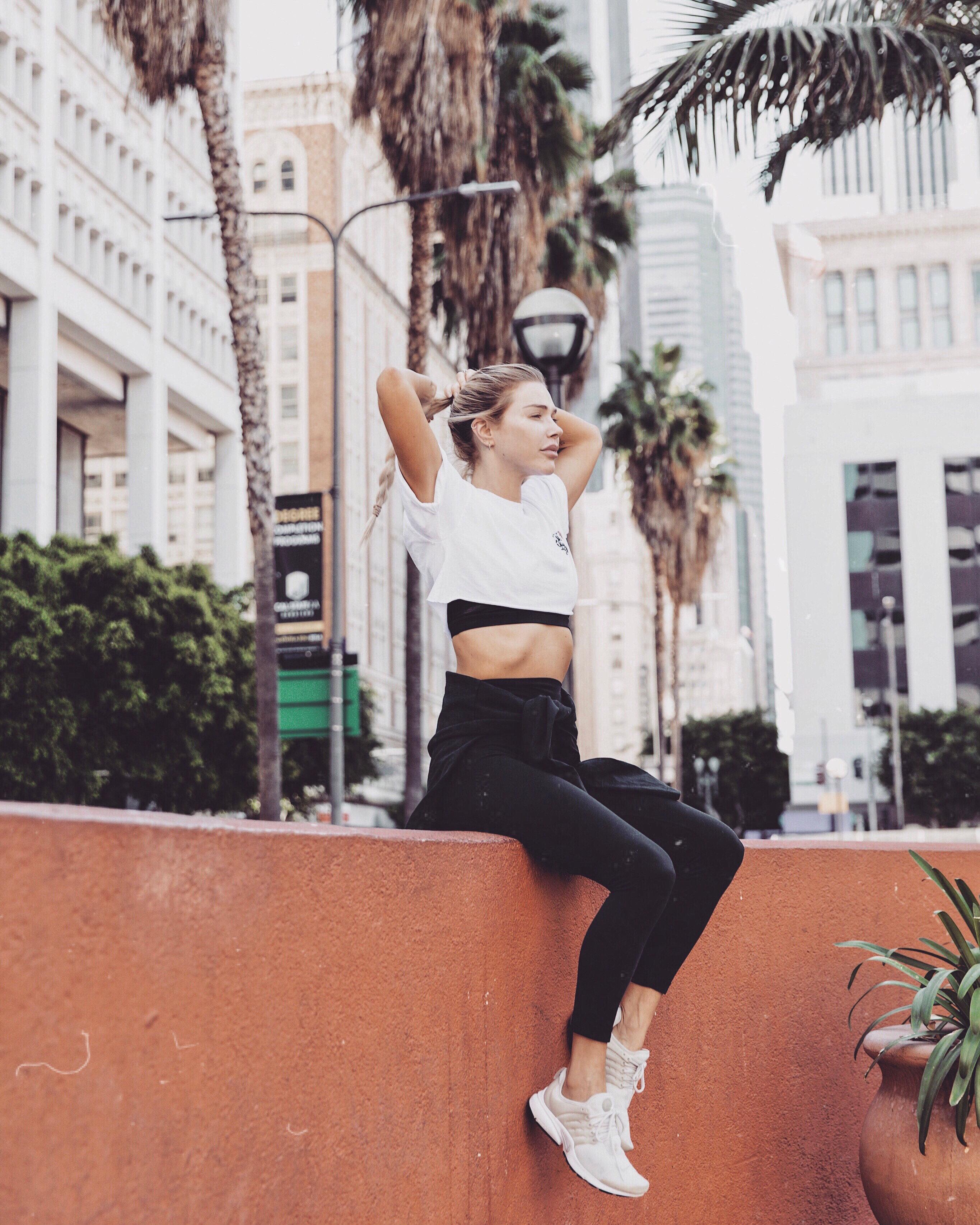 After struggling with health issues since last fall, my focus has been on healing my gut, reducing stress and ultimately balancing hormones. Because of that, I shelved tracking macros and have simply eaten intuitively, paying close attention to how my body reacts to different foods and learning how to nourish myself while avoiding things that I'm sensitive to. While my coach Rob Yang and I are still sorting out my gut issues and playing around with food, I have felt consistently good for months now (with the exception of a few flare ups) and therefore I decided to reintroduce tracking my macros to lean out a bit.
THE BREAKDOWN
If you don't know what I'm even talking about, go read my previous posts on macros here and here. And for those of you in the know, here's the breakdown. I am following a 40/30/30 ratio (40% carbohydrates, 30% protein and 30% fat) as this has been a good starting point for me in the past. I am eating in a slight deficit, around 1700 calories. I never shared this number in the past but I think so many women automatically think tracking means restricting or eating 1000 calories which has never been the case for me. This ratio comes out to 170g carbohydrates, 128g protein and 57g fat. I track using MyFitnessPal very loosely; I'm not weighing my food and I am not obsessed with hitting my numbers exactly. I aim for +/-5g but as long as I'm in the realm of the goal I am satisfied!
THE FORMULAS
To get my numbers, I start by calculating my BMR or Basal Metabolic Rate. This is how many calories I'd burn if I did absolutely nothing all day. I use the following formula:
BMR = 655 + ( 4.35 x weight in pounds ) + ( 4.7 x height in inches ) – ( 4.7 x age in years )
Then, I calculate my TDEE (Total Daily Energy Expenditure) or how many calories I burn a typical day.  I use the following formula:
TDEE = BMR x ACTIVITY LEVEL
Sedentary (Little to no exercise, desk job) TDEE = BMR x 1.2
Lightly Active (Light exercise/sports 1-3 days per week) TDEE = BMR x 1.375
Moderately Active (Moderate exercise, sports 3-5 days per week) TDEE = BMR x 1.55
Very Active (Heavy exercise, sports 6-7 days per week) TDEE = BMR x 1.725
Extremely Active (Very heavy exercise, physical job, training 2x per day) TDEE = BMR x 1.9
There are endless ratios one can follow when tracking macros. It completely depends on your body, lifestyle and goals. While there are some rules one can follow (i.e 1 gram of protein for every pound) for me, the simple ratio 40/30/30 or slight deviations (35/30/35, 45/25/30) have been extremely effective for me in leaning out while maintaining consistent energy the entire day and never feeling hangry.Then, I either calculate a surplus or deficit depending on goals, or use my TDEE as my maintenance number. Since I am tracking loosely with no major goal other than to lean out a bit, I simply calculated a low 15% deficit from my TDEE  and broke that down into the ratio below.
SOOOO TRACKING…
This seems to be the part that most people have trouble with and I wish I had some tips but it just takes practice. As I mentioned above, I use MyFitnessPal to track; it's not a perfect app but I'm not aiming for perfection so I don't mind that it isn't accurate to the gram. One thing that does make tracking easier is eating real, whole foods. I can not stress this enough. If you're eating processed food, cut that out of your diet before you even attempt counting macros! You'd be amazed at how your body responds to just real food!
I plan my day around the fact that I love to snack and eat every couple of hours, so I usually start by inputting a protein rich breakfast, my dinner, and all of my main snacks, then I fill in the rest. I usually like a really light lunch so with the remainder of my numbers I come up with something for that, usually a protein with veggies in a wrap. And dessert. Always dessert!
QUALITY OVER QUANTITY
As I stated above, please don't attempt to track macros if you have poor eating habits. Start by replacing processed foods with REAL food and see how your body responds. But for all of us it is important to focus on quality over quantity. I often emphasize that it is much more complicated than energy in vs. energy out and I still feel strongly about that. For example, many women ask me how I eat moderate to high carb given that I have PCOS. The sources of my carbohydrates are things like Japanese sweet potatoes, butternut squash, fruit, nuts, and lots of vegetables, so these don't cause my blood sugar to spike.  Saying it one more time for effectiveness: real nutritious foods will do more for your body than controlling every calorie that goes in! Tracking macros is simply a tool I personally like to use short-term to reset or quickly achieve a goal.